Before I dig into this year's "Shane's Favorite Things" aka "stuff you should buy" aka my Christmas gift guide, I have to admit that this year I was so busy that honestly not much has changed from last years list here:
http://drapersbbq.com/blogs/2018/11/christmas-guide-2018/
That said....who the heck wants to hear excuses so I decided to dig deep and find some more stuff I really, really liked and used this year. #stopwhining #lesstearsmorewords
So once again in no particular order here are things that I genuinely enjoyed this year and/or things I wish I had enjoyed this year. Keep in mind a good portion of my year was spent driving and driving and more driving. When I wasn't driving I was filming or doing some sort of prep for filming or recipe development. So I guess what I'm saying is that this list is perhaps a little different from the last few years.
Drivin' and Cryin'
Just like in last years guide, I started off talking about things I loved that I used while driving. This is no different. I did get a new truck this year that I LOVE, but this isn't really as much about the awesome Ram Laramie Sport with all the bells and whistles as it is about the things I use while in the truck.
Yes, the Maui Jim sunglasses from last year are still in use. What I will plug this year is Sirius XM. If I'm in my truck XM is likely on.
Of course the next question you're going to ask is what channels. I really only listen to Pearl Jam Radio, Lithium, Octane, Turbo, Rock The Bells Radio, BB Kings Bluesville and occasionally PopRocks. I might scroll through one of the comedy channels on a long drive but really those channels listed are my "go to" ones.
But even Sirius has its limits with me and I'll often times load up Spotify for my actual favorite music and podcasts. With the travel and spotty cell coverage I do pay for the Premium version of Spotify. I like Spotify because it literally allows me to be as bipolar as I want music wise. No matter what song I have in my head I can dial it up. For me and the 9 people who follow me it's always one crazy ride lol.
So what am I drinking on these road trips? Well usually water with Stur in it. I keep about 5 of these with me at all times. They are calorie free, taste very good and of course all natural. I've been a supporter of this company for the past 3 years or so and they are now finally starting to be carried in big box stores. You can of course get them on Amazon.
If its not Stur what else will you find me drinking? Well, if I'm being good and not super tired and sucking down a Monster Java, my all time favorite drink has to be Pure Leaf's Tea House Collection Strawberry & Garden Mint. Seriously I could drink about 20 of these a day and I hate that they cost $3 a piece, but I do love them. They are one of the most perfectly balanced drinks out there. Not too sweet, not too tart and not too minty....juuuuuuust right and they are crazy hard to find in most gas stations. Sure, the other flavors are there...but this one is like a unicorn.
Grills, Grills, Grills .....
I've had the pleasure of cooking on some great one's this year! These are my favorites, again..."MY" favorites. Some will agree, some won't. Some may be offended due to the price, but these are the one's I either bought or would buy at full price because I really do love them.
Ever since I got one of the very first Chimp's from Grilla Grills sent to me I have been impressed. I knew it would be good. Mark and collaborated on it and it was really dialed in, but I never got to cook on it. What amazes me day and day out with this little guy is just how damn good the food is off of it. There is something very special about the chamber size vs the firepot size and those side vents. For putting color and flavor on food I don't know that there is a better pellet grill out there. I know that's a big statement, but I really do mean it. We turned in many competition meats off Chimp's this year travelling and competing and cashed many checks that were much larger than its $529 delivered price tag! This might be the best kept secret in all of the pellet grill market and more people really should own this one. I loved it so much I took it with me 10hrs each way to the beach in Gulf Shores and we cooked on it every day while there for 6 people.
Don't let it being called a tailgater fool you. Seriously, this grill is built well and Mark spent a long time getting those legs perfect. I honestly think Grilla should be charging more for the Chimp because it is just that good.
I don't know what it is about small grills, but I love them. I've had a crush on the MGrills C4 since the first time I seen it in person. There is just something so tough and almost liberating about just how small it is. Nevermind that it's becoming the defacto grill for the SCA guys and gals, it's just damn cool. It's super well built and in such a small package that it almost belongs in a "bug out bag" or on some sort of survivalist list. Yes, I know it can only hold two steaks at a time, I don't care! I still LOVE IT. There is something so endearing about it's design and engineering that you just can't help but love it. For the $265 price tag I want a C4 in every vehicle I own. MGrills also makes this in all stainless steel...and yes I want that one too!
Yes, the next two grills are also MGrills. I can't help it. I just love the build quality and the design that goes into these. If they aren't your thing feel free to scroll on, but seriously if you don't know about them, take a few minutes and indulge, they are great.
I was fortunate enough to borrow the MGrills M1 from Dylan Lipe a couple of months ago. To be honest, I didn't get the hype and why he was so excited about this grill at first. It wasn't until I got hands on with it for a few cooks that I started to appreciate it. At first glance its just another expensive charcoal grill, except it's also a reverse flow smoker and a santa maria style grill at the same time. That's not such a big deal I suppose, until you start to consider that is coming in a package that has the same foot print as most pellet grills and it's a flippin' TANK, hence the name.
Yes, it's on the expensive side at $2300+ but it's not until you really touch that you understand the attention to detail, the hand crafted touches and frankly why its worth the money. After cooking this years Thanksgiving turkey on it, I don't think I'm giving this one back to Dylan :)
So if the C4 is the entry level and the M1 is the holy grail, all in grill what falls in the middle? Well, MGrills came up with the M16.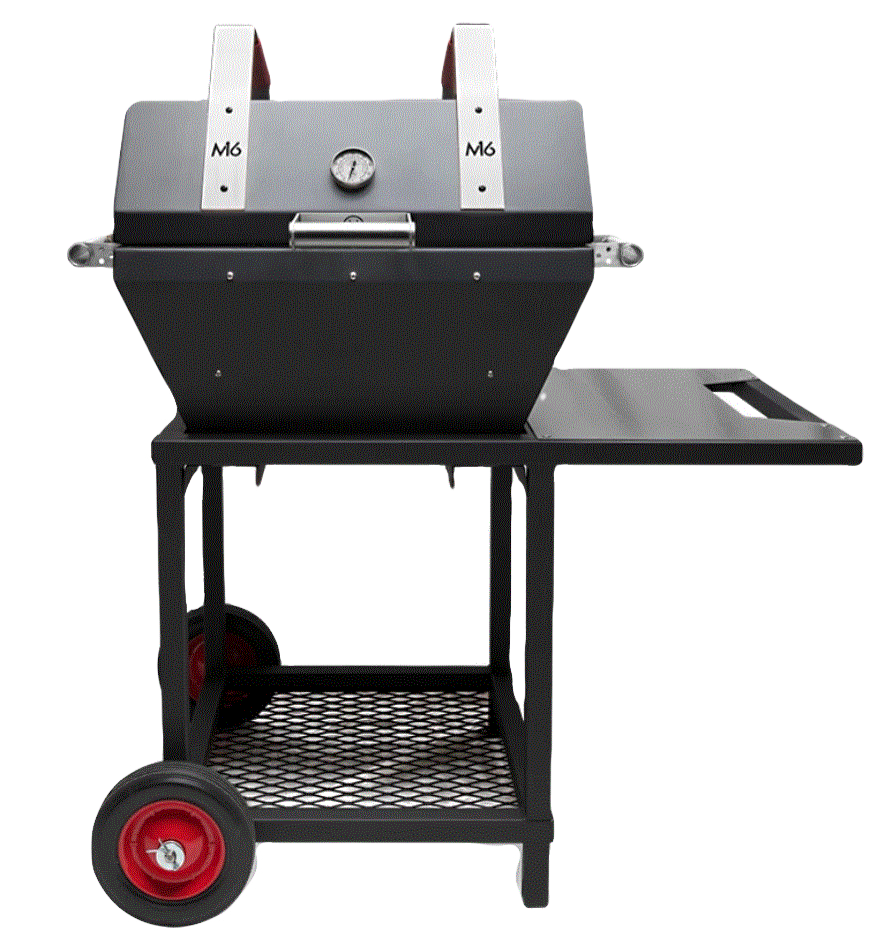 I'm not here to convince you one or any of these grills are for you necessarily, but it's just really hard not to love the innovation, commitment to overbuilding every inch of these grills. So what makes the M16 different from everything else? MGrills calls this the "competition grill" and I am sure it is aimed at the SCA market. Where they say competition grill, I see a really great mix of tailgating and at home use.
If you check out the pics on their website you will see the grill separates from the stand very easily, you could totally set this grill on something else and use it. I also really like that the lid comes completely off for those times you just don't need it. I also like that they have tried to take on some iconic design of their own here. When you see this you know it's a M16. It is similar to what PK, Weber, Grilla with the OG and others have done with their grills. You just know them when you see them and I always like that. For $900 it's exactly what you should expect, over built, really heavy, every nut, bolt and weld done right. Yes, there is also a full stainless version of the M16 available as well.
So you have all these expensive grills....what do you clean the outsides with?
Mark Graham turned me on to Twinkle at Memphis in May. It worked on stainless, it made the exterior of the powder coated surfaces look like new and I was really impressed. Now understand this isn't the cheapest stuff out there at $15 a can. If you are looking for good and cheap check out LA's Totally Awesome Cleaner. The difference, is that LA's you need to be careful on the black surfaces of your grills as it can discolor them if you go too heavy with it. For those of those though who want it all in one can for videos, pics, on site judging etc, Twinkle is a winner.
Knives Out
It wouldn't be a Pitmaster Shane D list without a list of knives and other accessories that I love. So in no particular order here are some things related to knives and cooking that I loved this year.
Sharpening steels, honing rods, a steel....look these things have a hundred names but at the end of the day they all do the same thing....daily reconditioning of your knives edge. I have used probably a dozen different varieties and brands but this one from Gunter Wilhelm is hands down my favorite and worth the $50. It has just the perfect grit to it and in about 3 hits on it any decent knife is like new again. I am systematically replacing all my other steels with this particular blue ceramic beauty. I thought I was the only one who felt this way until I went to Dallas in October and was cooking with several mildly famous chefs and influencers and everyone that picked it up and used it fell in love and immediately asked where I got it and how they could get one.
I was gifted this one as part of a set that came with this beautiful brown leather knife roll that I still adore as well. Seriously its the nicest leather I have ever touched. Its this beautiful plush, lush leather that just feels amazing. It's hard to pick it up and not think about the craftsmanship that went into it. No, it's not cheap, but damn it's worth it. It makes you feel like a badass just carrying it around. Walking down to the World Food Championships with it the first day I got several comments on it. It's not overly adorned in anyway, but people can see the build quality from across the room and everyone asks where it came from.
I honestly can't hardly keep up with all my favorite knives at this point. So I will limit it to my two most recent purchases. Yes, I still buy my own even though I am given some as well. I just like to test all sorts of knives so I can recommend things from all sorts of brands and at different price points. The Omega line from Dalstrong represents the highest end of their offerings. They are very flashy as you can see, but they are exceptionally useful and I love the way their handles feel in my hand. For those of you who have smaller hands you may not like them as much. On the left is the Omega Slicer and on the right is the Omega Curved Boning. I love the Shogun line from Dalstrong but it doesn't stop me from loving the Omega line with their leather sheathes as well. Super high quality, beautiful knives is all I can say.
So I was very fortunate to receive the Dalstrong Sous Team 6 apron for my birthday this year from my wife. I wanted to love this $90 apron, but I was really worried I wouldn't. Frankly most aprons look odd on me. The good ones are really too heavy and they drive me crazy and the bad ones are just worthless to even bother with. Well, after one filming session with this one, I ordered a second one. Yes, its heavy, but it fits us bigger guys. The pockets, loops and clip are genius. Especially the "cell phone" pocket on the interior of the apron that I use to stash my audio gear for filming. I love that I can take off the apron and the mic and transmitter are all contained in the apron. This saves so much time when filming and is one less headache to worry about. Dalstrong has several other cheaper aprons that I'm happy to report that I ordered and are great as well. They have several in their $40 price range that are fantastic and I recommend all of them.
Sonic Electronics
So I'm still an IT guy and I still love my gadgets. So no list of mine would be complete without a few gadgets.
Let's start with what I'm writing this post from. Last year I splurged on a new computer for myself and bought a Microsoft Surface Pro 6. Yes, I read all the hate and all the trash talk, but I decided to give it a try and you know what? I love it! The format, size and power is great. I do everything from video editing to graphics and basic web stuff and I really enjoy every minute with this computer. The stylus works fine and there are times I love to just put my headphones in and draw or color as a way wind down. The new Surface Pro 7's are out and they are arguably even better, so they get my recommendation as well for anyone who is looking for a highly portable solution to just about any computing situation.
During the day I use a Mac Book Pro that is pushing 10yrs old at work and as mentioned above at night I use my Surface Pro. So what bridges that gap for me mouse wise to maintain continuity? The Logitech MX Ego trackball. I love that is bluetooth and works on my Mac and my Surface. The button that has 1 2 below it allows me to switch back and forth between the two systems easily. Also as someone who has destroyed his wrists doing dumb crap in the military I love that you can switch angles easily. Battery life is beyond outstanding and it rarely needs to be recharged. Build quality is fantastic and it travels with me everywhere I go. Yes, it is an $80 trackball and I'd buy one right now if I lost this one or if it died. I wouldn't even wait for Amazon to deliver it. I would be waiting at the local Best Buy for the doors to open so I could run in and buy another first thing in the morning. Yeah, I love it that much.
These little jewels have made my list every since I got them. No, they aren't the lavish Apple Air Pods. They are the Tic Pods Free and just plain work. They pair up easily to my Pixel 3 XL. They isolate noise very well. They work well for phone calls and meetings. The touch controls are intuitive and work very well. If you find me making circles on a mower for hours on end these will no doubt be in my ears. If I need to think and get away and work on recipes they are in and I'm listening to music. If I'm traveling walking around in an airport or in flight on the plane they are on playing whatever I have que'd up from Spotify Premium. They don't have a ton of great reviews on Amazon, but these at $80 are better than the reviews let on and are worth their price tag any day. Long and short I am a fan and cant understand why more people aren't because they are a key part of my daily life and I'd miss them if I didn't have them.
Stickin' It To da Man
This last section I want to recommend some smaller businesses that I think should get more press. I use these products and frankly consider some of these folks personal friends.
Last year I wrote this in my Christmas guide: I am going to get on a soapbox a little bit.  Those of us in the competition world all but have to compete with wagyu briskets any more.  One company, in particular, has become the defacto supplier of this product.  For a long time, I have been less than overly satisfied with the pricing versus the product I've been getting.  Based on that I started looking for another supplier.  I was lucky to get to work with The Butcher Shoppe in Pensacola, Florida earlier this summer.  This one
interaction changed my interpretation of what a relationship with a meat supplier should be.  Kevin Green and his son Jordan go so far above and beyond for their customers and hand picking meat for each shipment that it is nearly insane.  Dare I say it is as close to Grilla Grills level customer service as I have seen.  It is not uncommon to get a picture of the actual meat you are trying to buy from Kevin or Jordan as they go through the hand selection process.  Add to that, the briskets are A9 wagyu and they carry everything down to choice.  Their briskets are already mostly trimmed of fat and you the customer are not paying for pounds of product that you are going to trim off and throw away.   Think about that, they are pretrimmed so you aren't paying $10+ a pound for trash that has to be shipped to you.  If you want to get the most premium product available you owe it to yourself to give them a call.
You know what has changed since last year? NOTHING. Kevin and Jordan are still killing it. Just call them, that's all I have to say.
In a bit of surprise this year I was handed this weird looking seasoning to take home and try as part of Bama-Q. At first it sat around and I never opened it and paid much attention to it. Then I finally opened it and was pleasantly surprised. Then I used it on some briskets, steaks, etc and continued to be surprised. Long story short. Hardin's seasoning is legit. It's really solid on just about everything. Yes, it looks different and doesn't taste at all how it looks. There is a great herbaceous note that is highly unexpected from what you see in the bottle. Frankly the seasonings world has been over ran by everyone's version of SPG (Salt Pepper Garlic)....Hardin's isn't that. It's not that at all. There are some specialty sourced herbs here that will make Hardin's a regular in your cabinet. Don't miss out on their blue labeled bottle either, its legit! I love it on shrimp!
To be completely clear, I have no idea how big Extreme Culinary Outfitters is as a company. That said, I really like some of their designs and for the last 6 months have worn out one of their hats. Its getting to the point that the hat is just apart of what I wear when filming. In the pic here I'm in Dallas with Jim and Diane Compart at the World Food Championships. I had just finished cooking all sorts of amazing Compart Duroc pork over an open flame for a demonstration we were doing with Western Wood Products and Cowboy Charcoal. Anyway, back to ECO....I hate to think about the gallons of sweat that hat has soaked up. I have a couple of their tshirts as well and I really love each one. If you are into supporting a good cause they have a limited edition Anthony Bourdaine shirt that is really great. HINT HINT for those of you wondering what to get me for Christmas, I'd rock a 3x in that shirt. You can check out their hats here.
Ok you crazy kids, that's about it. I know some of you are already wondering why I didn't mention Moo'd Enhancer. This isn't really about my products, it's more about stuff that I use and recommend from others. Of course I recommend and use Moo'd along with all the other Flavor Anonymous products that are coming soon!
As always I genuinely thank each and everyone of you who bother to watch any video I've been in, read any words I have written or suffered through any random diatribe that has fallen from my brain and into social media. I push myself to be better at this craft for you, the people who consume the information. I push myself to build this thing into a bigger brand and more opportunities for my family. That is the thing that drives me to work as much as I do and to keep going. At the end of the day if left to my own devices I'd never leave my recliner and just watch basketball with with my youngest son lol. I thank each and everyone of you for driving me to do more.
2020 will be an amazing year, there is so much that is in the works that I hope you all enjoy as it is released. As always, may God bless you and you have my sincere gratitude for being a fan in anything I do. Love, Peace and Pork Grease Friends! Pitmaster Shane D .... Out